Priya Basil to Introduce "BE MY GUEST: Reflections on Food, Community and the Meaning of Generosity" via Zoom (11/10)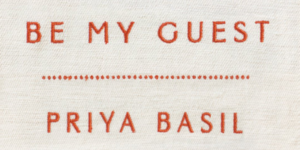 Priya Basil, author of BE MY GUEST: Reflections on Food, Community and the Meaning of Generosity (Knopf), will be in conversation with Elissa Altman at Brookline Booksmith Transnational Literature Series virtual event via Zoom on Tuesday, November 10 at 12:00 pm (ET).
BE MY GUEST is a unique, deeply personal meditation on what it means to tend to others and to ourselves–and how the two things work hand in hand. Priya Basil explores how food–and the act of offering food to others–are used to express love and support. Weaving together stories from her own life with knowledge gleaned from her Sikh heritage; her years spent in Kenya, India, Britain, and Germany; and ideas from Derrida, Plato, Arendt, and Peter Singer, Basil focuses an unexpected and illuminating light on what it means to be both a host and a guest. Lively, wide-ranging, and impassioned, Be My Guest is a singular work, at once a deeply felt plea for a kinder, more welcoming world and a reminder that, fundamentally, we all have more in common than we imagine.
Priya Basil was born in London to a family with Indian roots and grew up in Kenya. In 2002 she moved to Berlin, where she still lives. She has published two novels and a novella, as well as numerous essays for various publications, including The Guardian. Her fiction has been nominated for the Commonwealth Writers' Prize, the Dylan Thomas Prize, and the International IMPAC Dublin Literary Award. Basil is also the cofounder of Authors for Peace, a political platform for writers and artists, established in 2010.
!! As a reminder, if you are posting to a personal or other non-PRH account you must include the hashtag #TeamPRH !!
Posted: November 7, 2020