Project Editor Lucy Richards Goes Behind the Pages of New Edition of DK's WHERE TO GO WHEN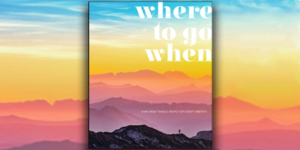 DK Eyewitness Travel has released a brand new edition of WHERE TO GO WHEN: Unforgettable Trips for Every Month, the ultimate vacation planner, showcasing the most amazing places in the world and the best time of year to see them. This book combines a detailed narrative with sumptuous photography to bring to life over 100 destinations across the globe – discover when and where to explore Costa Rica's rainforests, journey into the clouds in Nepal, sail between Croatia's cypress-clad islands, or gaze at the saw-toothed crags of Canada's Rocky Mountains. To help you choose your destination, the clear layout features an array of exciting places and experiences for every month, and suggests an alternative time to visit if you're unable to make that month. So whether you're looking for rest and relaxation or active adventures, WHERE TO GO WHEN makes finding special spots around the globe easier than ever.
In this "Behind the Pages " interview, Project Editor Lucy Richards shares the process involved in producing this fully updated edition, her favorite spreads, and her thoughts about what readers will enjoy most.
How would you describe the process for putting together this updated version of WHERE TO GO WHEN and how does it compare to the 2016 edition?
It was a rewarding labor of love. The core team comprised an editor and designer and two respective seniors, and together we spent an intense three months reading, researching, designing, reworking, commissioning, editing, re-reading, re-designing. All four of us are avid travelers, all with different styles and preferences when it comes to travel, and I think this variety and passion translates into the book.
This edition of WHERE TO GO WHEN is so different to the previous that I tend to think of it as brand spanking new. We all agreed that the 2016 edition was looking tired. It was comprehensive and cluttered, and the text often lacked direction. We wanted 2019's edition to be fresh, contemporary and inspirational – the kind of book that you'd flick through on a Sunday morning with a cup of coffee, dreaming of adventures on faraway shores.
All of the layouts and images are new for this edition and our talented designers sniffed out the most evocative photos, all importantly showing that time of year. Editorial meanwhile stripped the text back to get to the real nub of why specifically that place, in that month, is so magical. We added 'When Else to Go' recommendations for each entry too, giving readers some alternative timings.
It's also worth mentioning that this edition includes 15 new entries, and we removed some that we felt were outdated or weren't in keeping with current trends and attitudes. For example, with travelers wanting less gimmicks and more experiences, we decided to remove a Swedish ice hotel entry and replace it with the Northern Lights in Norway. Similarly, the 2016 edition also had an Inca Trail entry for Machu Picchu but with the route experiencing overtourism this was re-written for the alternative Salkantay Trek.
What is your favorite spread and why?
Oof that's a hard question for an editor! I have a clutch of favorites (San Pedro de Atacama, Lalibela, Barsana, Berlin – to name but a few) but again and again I'm drawn to April's Amalfi Coast spread. This was a new commission for this edition, written by a brilliant travel writer called Olivia Rawes. I admit Italy is my weak spot (the scenery, the food, the language – take me there, quick!) and when Olivia's copy landed in my inbox I was immediately transported to Italy's southwest coast; I could smell the citrus blossom hanging in the air, hear the seagulls crying overhead. And her delicious copy is set off by that stunning image, which makes me think of Audrey Hepburn every time I see it. Bellisima!
Who do you think will enjoy this book the most?
I genuinely think this edition of WHERE TO GO WHEN will appeal to all bookworms and travelers. It's a beautiful book in its own right, and the copy really sings, meaning armchair travelers can get a taste of Holy Week in Antigua or Pembrokeshire's enchanting coastline from the comfort of their living room. But similarly this is an invaluable resource for travelers who want to embark on a journey in the most opportune month. We've all been disappointed by a trip, when the time of year let us down. I did India's Golden Triangle in May, for example, when the temperature averaged 116°F and locals thought me mad as I sweatily set off to visit the Taj Mahal. If only I'd had WHERE TO GO WHEN to advise when I should have gone (February, in case you're curious).
Posted: November 5, 2019