Publication of Amélie Wen Zhao's BLOOD HEIR Set for This Fall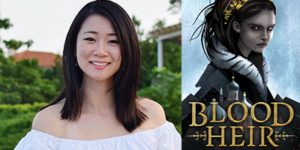 Delacorte Press, an imprint of Random House Children's Books, will publish BLOOD HEIR, the first volume in Amélie Wen Zhao's debut young adult fantasy trilogy, on November 19, 2019 with a hardcover first printing of 150,000 copies, it was announced by Delacorte Press SVP & Publisher Beverly Horowitz. The audiobook edition of BLOOD HEIR will be simultaneously released by Listening Library, an imprint of Penguin Random House Audio.
Originally scheduled for release this June, BLOOD HEIR gained attention earlier this year when concerns were raised online about aspects of the book's content. Zhao requested postponement of publication in order to evaluate her work in light of the feedback.
Says Zhao, "In writing BLOOD HEIR, I set out to write a fantasy with blood magic, fierce heroines, con men, and falling kingdoms with parallels to modern-day human trafficking. I researched extensively on that subject and on indentured labor throughout the world, and specifically from my heritage. It became clear to me that my book was being read in a different cultural context from my own, and so I took the time to make sure the hallmarks of this global epidemic were being incisively drawn. My hope is that the themes explored spark meaningful conversations, and that readers will become immersed in the fantasy world I have created."
BLOOD HEIR is the first installment in an epic new fantasy trilogy about Anastacya (Ana), a princess of the Cyrilian Empire who has the power to control blood and has been falsely accused of her father's murder. To save herself, she must flee the safety of the palace and enter a land that fears those with powers like hers, known as Affinites. She enlists the help of a con man to find the true killer and clear her name. During their mission, Ana finds that a greater conspiracy is at work in Cyrilia, one that threatens the very balance of her world.
"We are thrilled to be publishing BLOOD HEIR this fall, and to bring Amélie's empowering and enthralling storytelling to a wide audience," says Zhao's editor Krista Marino, Senior Executive Editor, Delacorte Press. "Shedding light on a global human rights issue, Amelie's novel is true to her dual mission to raise awareness for important social issues and to write an engrossing story for readers."
Amélie Wen Zhao was born in Paris, grew up in Beijing, and moved to the United States when she was 18 to attend college in New York City, her current home. BLOOD HEIR is her first novel.
U.S., Canada, and open market rights for the trilogy were acquired by Ms. Marino from Peter Knapp at Park & Fine Literary and Media.
Posted: May 1, 2019