Putnam Partners with MWA to Create Sue Grafton Memorial Award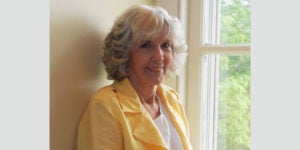 Thirty-five years ago, Sue Grafton launched one of the most acclaimed and celebrated mystery series of all time with A IS FOR ALIBI, and with it created the model of the modern female detective with Kinsey Millhone, a feisty, whip-smart woman who is not above breaking the rules to solve a case or save a life. Like her fictional alter ego, Grafton was a true original, a model for every woman who has ever struck out on her own independent way.
Grafton passed away on December 28, 2017, but she and Kinsey will be remembered as international icons and treasured by millions of readers across the world. Sue was adored throughout the reading world, the publishing industry, and was a longtime and beloved member of Mystery Writers of America, serving as MWA President in 1994, and was the recipient of three Edgar nominations as well as the Grand Master Award in 2009.
G.P. Putnam's Sons is partnering with MWA to create the Sue Grafton Memorial Award, honoring the Best Novel in a Series featuring a female protagonist in a series that also has the hallmarks of Sue's writing and Kinsey's character: a woman with quirks but also with a sense of herself, with empathy but also with savvy, intelligence, and wit.
The inaugural Sue Grafton Memorial Award will be presented for the first time at the 73rd Annual Edgar Awards in New York City on April 25 – the day after what would have been Sue's 79th birthday – and will be presented annually there to honor Sue's life and work.
Victoria Thompson's CITY OF SECRETS (Berkley) is among the 5 nominees for the Sue Grafton Memorial Award. The finalists were chosen by the 2019 Best Novel and Best Paperback Original Edgar Award judges from the books submitted to them throughout the year.
Posted: February 25, 2019