Putnam's Sally Kim Named Poets & Writers 2022 "The Editor's Award" Winner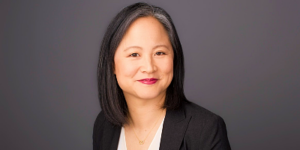 Poets & Writers, one of America's most respected national organizations for fostering the professional development of its namesakes, and for promoting communication throughout and among the literary and reading communities, has chosen Sally Kim, Senior Vice President and Publisher of Putnam, as the recipient of its 2022 "The Editor's Award." The annual prize "recognizes a book editor who has made an outstanding contribution to the publication of poetry or literary prose over a sustained period of time."
Kim, to whom the Putnam editorial, marketing, and publicity departments report, was appointed Publisher in 2020, having joined Putnam from Touchstone/Simon & Schuster in 2015 as Vice President, Editorial Director. She is also the acquiring and working editor for such critically admired and bestselling fiction authors as Robert Jones, Jr. ("The Prophets," a 2021 NBA Fiction finalist), Kiley
Reid ("Such a Fun Age"), Chloe Benjamin ("The Immortalists"), Megan Abbott ("The Turnout"), and Cristina Alger ("Girls Like Us"), as well as early-career work by Jami Attenberg, Lisa Unger, and Gillian Flynn.
"Over the course of her career," says Poets & Writers, "Sally Kim has demonstrated an uncanny nose for writers whose prose shimmers with specifics and intelligence, and whose themes and plots resonate with millions of readers."
Ivan Held, President, Putnam, Dutton, and Berkley, cheered, "We are thrilled for Sally. With this career honor, Poets & Writers has underscored what we at Putnam and Penguin Random House have long known: With her amazing eye for singular storytelling and her exceptional skill for nurturing and developing authors, Sally is an editor colleagues, writers and readers treasure."
Previous Penguin Random House winners of The Editor's Award are Rebecca Saletan(Riverhead, 2018), Paul Slovak (Viking, 2016), and Kate Medina (Random House, 2014).
Sally Kim will receive her Award at the Poet & Writers annual gala, "In Celebration of Writers," Tuesday evening, March 29, 2022, in Manhattan.
Posted: December 6, 2021