Putnam's Sally Kim on How SUCH A FUN AGE Will "Make You Cringe in Recognition and Squeeze Your Heart"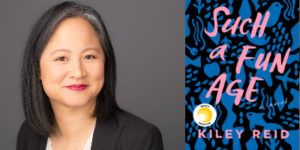 Kiley Reid's SUCH A FUN AGE, published by G. P. Putnam's Sons, is a #1 Indie Next Pick, a LibraryReads Top Pick and Reese's Book Club x Hello Sunshine January Pick, announced last week by Reese Witherspoon, who commented, "This story is a beautiful conversation starter about race, privilege, work dynamics … I can't wait to hear your thoughts!" Set around a young black babysitter, her well-intentioned employer, and a surprising connection that threatens to undo them both, this searing, big-hearted debut novel for our times has generated high praise from many media outlets, including The New York Times Book Review, NPR, People, and Entertainment Weekly, which called it "the most provocative page-turner of the year."
In our Three Questions for an Editor interview, Sally Kim, Vice President, Editor in Chief, G. P. Putnam's Sons, shares how she discovered the author, what drew her to Reid's writing style and thematic choices, the nature of the editorial process during the creation of this novel, and what aspects of SUCH A FUN AGE she thinks will resonate most strongly with readers.
How did you discover Kiley and what drew you to her writing style and thematic choices?
When Kiley's agent first called to pitch me SUCH A FUN AGE, she described it as "The Mothers meets Insecure." I took that in for a second, and said, "OK…well, now I have to read this," mainly because I didn't know what that would look like in a novel. And sure enough, as I read the pages, I realized she was right. This book has tremendous literary chops, with beautiful line-by-line writing, but it also feels as fresh and timely and relevant and urgent as a show like Insecure. I'd never seen a mix done like this, and done so seamlessly well.
The book has an explosive first chapter, and the story is off like a shot right after that, but it develops into so much more than that opening scene. It's the best exploration of race and class and privilege that I've ever read—but it also has a beating heart of a plot. It's smart and witty and funny, and sometimes, just plain wicked. There are many, many moments where you find yourself thinking, How can such an important book be so much fun to read? It's full of razor-sharp moments that will make you cringe in recognition—of yourself and of others, of things you've said, of things said to you—but also ones that will squeeze your heart.
What was involved in the editor/author process as SUCH A FUN AGE became a finished book?
I had a long conversation with Kiley on the phone before we acquired the book, and she was nearing the end of her first year at the Iowa Writers' Workshop at the time. We talked about a hundred different things, but especially about story and plot, and how a book can be read and enjoyed on different levels, and achieve different things at the same time. I remember she had said in a near-whisper, "I sort of stick out here at Iowa because…I like plot." And it was in that moment that I knew I had to work with her.
Already on that call we started riffing editorial changes—tuning this up, tuning that down, clarifying this, etc. I remember admitting to Kiley that there were times when I paused to think, Should Alex be more sympathetic here? And maybe Emira? But when I finished the manuscript I realized she absolutely shouldn't touch the dial on those characters. That the glory of this book is that no one is the hero, and no one made out to be the bad guy. Kiley said she wanted everyone to feel "a little bit called out" while reading this book—and that's a spot-on description of the push-pull you feel throughout the read.
We spent a lot of time with the opening chapters of the book—changing the order, putting them back where they were, splitting a particular chapter in two and moving one half 80 pages later in the story. It got to the point where Kiley had to start using different color Post-Its to block out chapters and scenes on her wall because it was getting too confusing. That particular exercise was about keeping the story's pace up and brisk while imparting a lot of information and back story about the two lead characters—and holding back a certain reveal to make its impact even stronger.
I read the manuscript half a dozen times, and I'm not kidding when I say I would finish reading the last page and immediately start aching to be with the characters again. That I would have gladly turned back to page one and start all over—if only I didn't have other manuscripts calling me! I feel so lucky to be the one who got to spend so much time with these pages.
What characters and plot points do you think will resonate most strongly with readers?
Before studying at Iowa, Kiley spent six years working as a babysitter and a nanny right here in New York City, and it was then when she first became intrigued to explore the nature of transactional relationships—and we all have them. How one of the most intimate relationships you'll ever have, either as a person entrusting the care of your own child to another, or being the person doing the care—at the end of the day ends with an envelope of cash being exchanged. She really gets that tension down on the page in a way that makes you think about your own thoughts and actions.
With this story, Kiley examines how race is always there, whether we're talking about it or not, and also nails what it's like to be a young person in this world, trying to figure out the complicated reality of becoming a grown-up, of making a living…when your most immediate concern is how to get health insurance.
What I love most about SUCH A FUN AGE is that it's a vehicle for talking about all of these things—the tension, the awkwardness, the absurdity, the humor, the unexpected effects of those little, everyday nicks and deeper cuts of life that we often avoid talking about. What a gift to read a book that provides that bridge for us.
Posted: January 8, 2020