PYR Announces Expansion of SHE PERSISTED, Chelsea Clinton's #1 NYT Bestselling Picture Books About Female Changemakers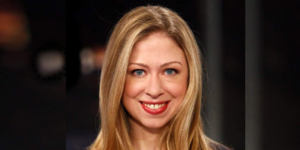 Philomel Books, an imprint of Penguin Young Readers, has announced the expansion of Chelsea Clinton's #1 New York Times bestselling SHE PERSISTED series, which has more than 1.3 million copies in print in North America, with a new on-sale date for SHE PERSISTED IN SPORTS: American Olympians Who Changes the Game, releasing September 22, 2020, and a new children's chapter book series for readers ages 6- 9, launching January 2021.
"With these new books, my hope is to expand what young readers see as possible for themselves, their sisters, classmates, friends and our world," said Chelsea Clinton. "And, I hope that all children – boys and girls alike – will continue to be inspired and empowered by the incredible women whose persistence has helped make our world brighter, more exciting, healthier and more just."
SHE PERSISTED IN SPORTS will celebrate American women who have faced their own unique set of challenges, across countless sports and levels of play, and excelled because of their persistence. Women in the book include Margaret Ives Abbott, Gertrude Ederle, Mildred "Babe" Didrikson Zaharias, Wilma Rudolph, Jean Driscoll, Mia Hamm and the 1996 Olympic soccer team, Kristi Yamaguchi, Venus and Serena Williams, Misty May-Treanor and Kerri Walsh Jennings, Diana Taurasi, Simone Biles, Ibtihaj Muhammad and Jocelyne and Monique Lamoureux. A Spanish-language edition, Ella Persistió en el Deporte, will be concurrently released.
The chapter books, inspired by Chelsea Clinton and Alexandra Boiger's #1 New York Times bestselling SHE PERSISTED picture books, will launch in January 2021 with the publication of She Persisted: Harriet Tubman, written by acclaimed, New York Times bestselling and Coretta Scott King Book Award-winning author Andrea Davis Pinkney. A new installment will publish each month, with a bonus edition in December. Each 80-page book will focus on one of the 13 women featured in SHE PERSISTED: 13 American Women Who Changed the World, and will feature an introduction by Chelsea Clinton, cover art by Alexandra Boiger, and black and white interior illustrations by Gillian Flint.
The full publication schedule includes: Harriet Tubman by Andrea Davis Pinkney (January), Claudette Colvin by Lesa Cline-Ransome (February), Sally Ride by Atia Abawi (March), Virginia Apgar by Dr. Sayantani DasGupta (April), Nellie Bly by Michelle Knudsen (May), Sonia Sotomayor by Meg Medina (June), Florence Griffith Joyner by Rita Williams-Garcia (July), Ruby Bridges by Kekla Magoon (August), Clara Lemlich by Deborah Heiligman (September), Margaret Chase Smith by Ruby Shamir (October), Maria Tallchief by Christine Day (November), Helen Keller by Courtney Sheinmel (December), Oprah Winfrey by Renee Watson (December Bonus!)
"Chelsea Clinton's books have sparked important conversations about the achievements of women," said Andrea Davis Pinkney author of the first installment of the SHE PERSISTED chapter book series. "It's an honor to be among the 'Persisterhood' of authors Chelsea has assembled to introduce such an impressive collection of notable sheroes. Harriet Tubman's story is especially relevant today. Harriet's persistence, ingenuity, and grit brought the rights of women and people of color onto the national stage, and helped define the true meaning of equality as we currently know it."
Chelsea Clinton is the author of the #1 New York Times bestselling picture book SHE PERSISTED: 13 American Women Who Changed the World, which was praised in a starred review by Publishers Weekly as a "lovely, moving work of children's literature [and a] polished introduction to a diverse and accomplished group of women." She is also the author of the picture book GRANDMA'S GARDENS, co-written with Hillary Rodham Clinton, and the forthcoming SHE PERSISTED IN SPORTS: American Olympians Who Changes the Game. Her other books include the New York Times bestsellers DON'T LET THEM DISAPPEAR: 12 Endangered Species Across the Globe; Start Now! You Can Make a Difference; SHE PERSISTED AROUND THE WORLD: 13 Women Who Changed History; IT'S YOUR WORLD: Get Informed, Get Inspired & Get Going!; THE BOOK OF GUTSY WOMEN: Favorite Stories of Courage and Resilience, co-written with Hillary Rodham Clinton; and GOVERNING GLOBAL HEALTH: Who Runs the World and Why?, co-written with Devi Sridhar. Chelsea Clinton is the Vice Chair of the Clinton Foundation, where she works on many initiatives including those that help to empower the next generation of leaders. She lives in New York City with her husband, Marc, their children, and their dog, Soren.
Posted: July 20, 2020