PYR Author Amanda Gorman to Recite a New Poem and Reach Millions at the Super Bowl on Sunday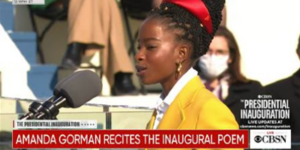 The already sky-high public profile of Penguin Young Readers author Amanda Gorman is about to soar even higher when she recites a new poem during the Super Bowl pre-show program this Sunday, February 7. In Tampa, Florida, where the Kansas City Chiefs will battle the Tampa Bay Buccaneers in the National Football League's 55th Super Bowl, Ms. Gorman will become the first person to read a poem as part of the festivities leading up to the NFL's biggest game, which is expected to be watched by close to 100 million people.
Ms. Gorman's new poem honors three individuals whose personal efforts have made a difference in the lives of many people during the COVID-19 pandemic: Los Angeles educator Trimaine Davis, Florida nurse manager Suzie Dorner and Pittsburgh-based Marine veteran James Martin. Mr. Davis made it possible for his students and their families in Los Angeles to get devices and Internet access, and he also hosted tech workshops for them. Ms. Dorner, who lost two grandparents to COVID-19, is the COVID ICU nurse manager at Tampa General Hospital and represents healthcare workers across the country as honorary captain. Mr. Martin has helped veterans, high school athletes and local youth connect virtually through the Wounded Warrior Project and by live-streaming events in Pittsburgh. The three have also been named honorary captains for the Super Bowl by the NFL.
Ms. Gorman, 22, was the youngest presidential inaugural poet ever when she wowed the world with her recitation of "The Hill We Climb" at last month's inauguration of President Joe Biden in Washington, D. C. It was the most- watched inauguration ever, with more than 33.8 million viewers.
This whirlwind of exposure, including a cover story in the Black History Month issue of TIME magazine, has sparked tremendous preorders of Ms. Gorman's upcoming Viking Books for Young Readers titles: THE HILL WE CLIMB: An Inaugural Poem for the Country, a special hardcover edition, with a foreword by Oprah Winfrey, on sale March 30; THE HILL WE CLIMB AND OTHER POEMS , and her debut picture book, CHANGE SINGS, with illustrations by Loren Long, both to be published on September 21. Each book has an announced first printing of 1 million copies and all continue to rank in the upper reaches of Amazon's bestseller lists.
Don't forget to tune into the Super Bowl pre-game show before kickoff at 6:30 pm (ET) this Sunday to cheer Amanda on!
Posted: February 5, 2021