PYR to Publish HOPE IS A RAINBOW by Best-Selling Author & NBC's TODAY Co-Anchor Hoda Kotb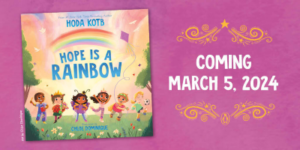 Hoda Kotb, co-anchor of NBC's TODAY, #1 New York Times bestselling author of I'VE LOVED YOU SINCE FOREVER, and mother of two, will publish a new children's picture book, HOPE IS A RAINBOW with Flamingo Books, an imprint of Penguin Young Readers.
Scheduled for publication March 5, 2024, HOPE IS A RAINBOW will celebrate the power of optimism and positivity and encourage young readers to reach for their dreams—whether they are as big as the night sky or as small as a bowl of purple ice cream. With beautiful and timeless illustrations by Chloe Dominique, HOPE IS  RAINBOW honors the childlike wonder and curiosity that exists in all of us, young and old.  
The news was announced on The Today Show yesterday:
Hoda Kotb said, "I wrote HOPE IS A RAINBOW to celebrate the beauty and wonder surrounding us all and to encourage the little ones in our lives to explore, to ask questions, and to follow their dreams. I hope this will be a book that readers young and old return to again and again, and I can't wait to introduce it to the world." 
About Hoda Kotb 
Hoda Kotb is the award-winning co-anchor of NBC News' TODAY and co-host of TODAY with Hoda & Jenna. She is also the New York Times bestselling author of seven books, including YOU ARE MY HAPPY, I'VE LOVED YOU SINCE FOREVER, WHERE WE BELONG, TEN YEARS LATER: SIX PEOPLE WHO FACED ADVERSITY AND TRANSFORMED THEIR LIVES, HODA: HOW I SURVIVED WAR ZONES, BAD HAIR, CANCER AND KATHIE LEE, I REALLY NEEDED THIS TODAY and THIS JUST SPEAKS TO ME. Kotb resides in New York City with her two daughters, Haley Joy and Hope Catherine. You can find her on Twitter and Instagram @HodaKotb. 
About Chloe Dominque
Chloe Dominique is an Illustrator and Concept Artist living in Norwich, with her partner, daughter, and their dog of mischief, Loki. She loves illustrating stories and creating characters that are full of heart, adventure and charm. When she's not drawing, Chloe enjoys exploring the countryside and coastlands of England with her family. 
Posted: August 3, 2023