PYR's Stacey Barney Receives Black Women in Media Award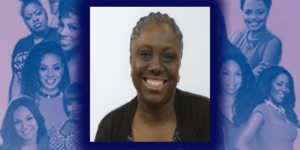 Stacey Barney, Associate Publisher, Nancy Paulsen Books, an imprint of Penguin Young Readers, was honored last night at the 6th Black Women in Media Awards for her work, contribution, and demonstration of excellence in Literature & Publishing. The Awards ceremony was hosted by Black Women in Media in New York City.
Honorees are carefully selected as either "Pioneers" who have paved the way, "Lead Women" who are currently dominating within their industry, as well as "Trailblazers" who are quickly becoming a force within their respective fields. Awards were also given in the following categories: Media, News + Journalism, Communications, Entertainment, Digital + Tech, Radio + Broadcast, and TV + Film.
"I'm deeply honored and grateful to be recognized in this way along with such accomplished activists, educators and artists like Dr. Bernice A. King, Amber Ruffin, Deborah Cox, and Dr. Yaba Blay—all of whom I continue to be inspired and encouraged by," said Barney. "I'm thankful to the selection committee for finding merit in my work in children's publishing, which has given my professional life more meaning than I knew was possible when I began this journey 20 years ago. I am especially thankful to the team at Penguin Young Readers for a supportive professional home. It's been a privilege to publish great books and put them out into the world in style with such wonderful, creative colleagues."
Stacey Barney has worked in children's book publishing for twenty years. She has worked with bestselling and award-winning authors including Renée Ahdieh, Krystal Sutherland, Misty Copeland, Katherine Arden, Ellen Hopkins and Ayana Gray. She also edited the 2021 Caldecott Award Honor Book The Cat Man of Aleppo, written by Irene Latham and Karim Shamsi-Basha and illustrated by Yuko Shimizu. In 2020, ALAN awarded Ms. Barney the Bill Konigsberg Award for Acts and Activism for Equity and Inclusion through Young Adult Literature, noting her commitment to making books that are "real, accessible, complex and integral components to a just and connected world."
Posted: November 17, 2021