Qian Julie Wang to Discuss Her New Memoir Virtually With Charles Yu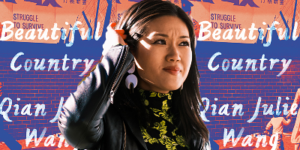 Qian Julie Wang will discuss her new memoir, BEAUTIFUL COUNTRY (Doubleday), a Today Show "Read With Jenna" Book Club Pick, with Pantheon/Vintage author Charles Yu at a virtual event hosted by Greenlight Bookstore (Brooklyn, NY), tonight, Monday, September 13 at 7:30 pm (ET).
To register, click here.
This event features an introduction from Greenlight co-presenters Make the Road New York, an organization that builds the power of immigrant and working class communities to achieve dignity and justice.
In Chinese, the word for America, Mei Guo, translates directly to "beautiful country." Yet when seven-year-old Qian arrives in New York City in 1994 full of curiosity, she is overwhelmed by crushing fear and scarcity. In China, Qian's parents were professors; in America, her family is "illegal" and it will require all the determination and small joys they can muster to survive. Inhabiting her childhood perspective with exquisite lyric clarity and unforgettable charm and strength, Qian Julie Wang has penned an essential American story about a family fracturing under the weight of invisibility, and a girl coming of age in the shadows, who never stops seeking the light.
Ms. Wang is a graduate of Yale Law School and Swarthmore College. Formerly a commercial litigator, she is now managing partner of Gottlieb & Wang LLP, a firm dedicated to advocating for education and civil rights. Her writing has appeared in major publications such as the New York Times and the Washington Post. She lives in Brooklyn with her husband and their two rescue dogs, Salty and Peppers.
!! As a reminder, if you are posting to a personal or other non-PRH account you must include the hashtag #TeamPRH !!
Posted: September 13, 2021