Quintero, Tucker, Sepetys, Yoon, Emezi Among 2019 NYTBR Children's "BEST"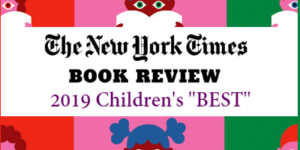 Here are the five Penguin Random House titles selected by the editors of the New York Times Book Review for "The 25 Best Children's Books of 2019."
Now online, the complete list is published in the TBR's December 8 print edition.
Picture Book
MY PAPI HAS A MOTORCYCLE by Isabel Quintero, illustrated by Zeke Pena (Kokila)
A girl takes a joyful spin on the back of her carpenter papi's motorcycle, greeting friends and relatives, noting historical murals and stopping at his work site.
Middle Grade
ALL THE GREYS ON GREENE STREET by Laura Tucker (Viking)
The artistic 12-year-old at the center of this debut, set in 1981 New York City, learns to live with her father's departure and her mother's clinical depression.
Young Adult
THE FOUNTAINS OF SILENCE by Ruta Sepetys (Philomel)
Set in Franco-era Spain, a hotel chambermaid risks her life to gather evidence against her country's fascist regime.
FRANKLY IN LOVE by David Yoon (Putnam)
This coming-of-age story, a Korean-American boy secretly dates a white girl despite the disapproval of his parents.
PET by Akwaeke Emezi (Make Me a World)
A National Book Award finalist, a 15-year-old trans girl living in a utopian society must convince her community that monsters are among them.
And a shout-out to PRHPS client imprint Neal Porter/Holiday House for the selection of SMALL IN THE CITY by Sydney Smith.
"Best" Illustrated
Last month, three"expert judges" commissioned by the NYTBR reviewed every illustreated childrne's book published in the U.S. this year to choose "The 2019 New York Times/New York Public Library Best Illustrated Children's Books," from solely "artistic merit."
Among their choices:
THE LOST COUSINS written and illustrated by B.B. Cronin (Viking)
And from PRHPS publishers:
SMALL IN THE CITY written and illustrated by Sydney Smith (Neal Porter/Holiday House)
JUST BECAUSE written by Mac Barnett, illustrated by Isabelle Arsenault (Candlewick)
THE FARMER written and illustrated by Ximo Abadia (Holiday House)
Congratulations to all!
Posted: December 3, 2019