R.I.P: 60s, 70s Bantam Sales Head Lou Satz, 94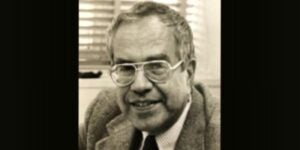 Lou Satz, whose driving sales leadership for such reprint titles as THE EXORCIST, ALL CREATURES GREAT AND SMALL, and JAWS helped position Bantam Books as a twentieth-century mass-market paperback publishing powerhouse, died of natural causes on April 9 in Seattle, at 94, nineteen days shy of his 95th birthday.
Mr. Satz was an essential guiding member of the company's sixties and seventies pantheon, under Oscar Dystel, responsible for Bantam paperbacks enjoying a prominent place among America's first-choice reading preferences. Then primarily a paperback reprinter in an era when the mass-market format ruled the book marketplace, the Satz-led sales team month after month filled and refilled tens of thousands of grocery, drugstore, and airport racks, as well as traditional book and department stores and mass merchandisers' shelves, with Bantam's popular and critically beloved newly published and backlist fiction and nonfiction.
Mr. Satz spent most of his adult life in service, first to the military, and then to book publishing and bookselling, beginning his career with the latter in 1953. He spent 23 years at Bantam, starting in 1962 as a wholesaler sales manager, rising to Vice President, Director of Sales, until 1980, and then serving four years as Bantam's Senior Vice President, Director, Diversified Markets. Along the way, he encouraged the careers of several generations of sales reps and executives, many of whom became key longstanding contributors to the company and the industry. His abiding friendships with such authors as Louis L'Amour and James Herriot enhanced their relationships with their publisher.
Post-Bantam, Mr. Satz relocated to California, and co-created the consulting company Scott/Satz Group, with life partner Gloria Scott, a former Bantam Education executive, whose clients included World Book, Passport Books, Random House, and Bantam.
A proud veteran of World War Two, he wrote and self-published four books, among them, "Occupation Europe 1945-1946, As Witnessed by a 19-Year-Old GI," chronicling his experiences in counter-intelligence to thwart the black market and acts of violence, and serving Displaced Persons.
Mr. Satz is survived by his sons Jonathan and Jay, daughters-in-law Sara and Meg, and grandchildren Rory and Lily.
Condolences Messages: Jay: jay.a.satz@gmail.com; Jonathan: jmaasatz@gmail.com
Postal Mail: Jay Satz, 851 S. 39 St., Tacoma, WA 98418
Memoriam Check Contributions can be sent to: Vietnam Veterans of Diablo Valley, P..O. Box 2079, Danville, CA 94526
* * *
Lou Satz: A Publishing Life Well Lived
April 28, 1927 – April 9, 2022
REST IN PEACE
* * *
Posted: April 26, 2022