Rachael Ray Gets Personal in New Book Edited by Ballantine's Pamela Cannon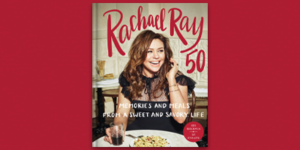 As her fiftieth birthday approached, Rachael Ray, the woman who taught America how to get dinner on the table, fast, started thinking not just about what to cook that night, but how her passion for food and feeding people had developed over her first fifty years. In RACHAEL RAY 50: Memories and Meals From a Sweet and Savory Life, published by Ballantine Books on October 15, Ray opens up about the most memorable moments of her life in this candid memoir-inspired cookbook featuring 125 all-new recipes. The book's pages are also filled with gorgeous food photography, personal photos, and Rachael's own hand-drawn illustrations, offering a revealing and intimate glimpse into her world and her every day inspiration.
In this "Three Questions for an Editor" interview, Ballantine Executive Editor Pamela Cannon opens a window into the genesis of this book, the editor/author process involved in working with Ms. Ray, and what about RACHAEL RAY 50 she thinks will resonate most strongly with readers.
When did you first connect with Rachael Ray and what were your initial impressions?
Rachael and I had a friend in common who sent her my way, and of course I knew about her books, television shows, and magazine. I also knew she hadn't done a book in a few years and was focusing on her philanthropic work, including Yum-o!, her nonprofit organization that helps kids develop healthy relationships with food and cooking. After we chatted on the phone, Rachael came in and met with the team here a year before her fiftieth birthday. She talked passionately about her ideas for RACHAEL RAY 50 (RR50). She even shared her beautiful hand-painted watercolor illustrations, which we included in the book. Rachael emphasized how RR50 was different from any other cookbook she had done in the past. It was more personal and writerly and contained the many stories of her life—what inspired and influenced her, as well as some of the challenges she faced along the way.
How would you describe the editor/author process of working with Rachael on this new book?
Intense and fast-moving! Rachael writes all of her own recipes and narrative. She works around the clock to produce content for her many entities, writing and creating recipes for her TV show and magazine. I would text her at 10:00 p.m. about needing another pasta recipe in a chapter and she'd have it to me before 9:00 a.m. the next morning. She would write nonstop during her breaks between shooting or heading to an appearance. It was often on the fly, but always focused. She is extremely hands-on and since these essays were super personal, every edit I made mattered to her and had to be considered. We were able to successfully find common ground, and the result is an inviting book, filled with heartening stories and amazing recipes.
What elements of RACHAEL RAY 50 do you think will resonate most strongly with readers?
I think readers and audiences alike will respond to Rachael's honesty in the book. There's no sugarcoating and never any BS with her. She'll give you the hard truths along with the well-earned moments. And while Rachael is tremendously talented, she's never taken anything for granted in her career. She is one of the most hardworking people I have ever encountered, never wanting to let anyone down. She always strives to deliver for her audience, whether it's a great recipe or a favorite story about her mother. And of course the recipes in the book are a bonus—they are unique and unlike those offered in her other books because they are the most personal to her: what she made her husband, John, on their first date, what she cooks for her friends when they go to Italy every year, and even some French favorites, some of which are inspired by her pal Jacques Pépin. Both readers' and cooks' palates alike will be delighted and satisfied!
For more insights into Rachel Ray and her new book, watch video of her appearance on CBS This Morning:
https://www.cbsnews.com/news/rachael-ray-on-serving-up-success/
Posted: October 16, 2019