Rachel Lance Dives into Her Book IN THE WAVES via Zoom (4/9)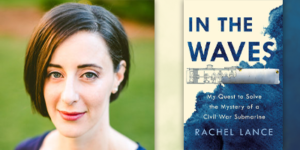 Rachel Lance, author of IN THE WAVES: My Quest to Solve the Mystery of a Civil War Submarine (Dutton) appears on Duke University Libraries: Online Book Talk, via Zoom (@underwaterlance), on Thursday, April 9, at 7:00pm (ET).
Learn about how a determined scientist cracked the case of the first successful—and disastrous—submarine attack. IN THE WAVES is much more than just a military perspective or a technical account. It's also the story of Rachel Lance's single-minded obsession spanning three years, the story of the extreme highs and lows in her quest to find all the puzzle pieces of the Hunley. Balancing a gripping historical tale and original research with a personal story of professional and private obstacles, In the Waves is an enthralling look at a unique part of the Civil War and the lengths one scientist will go to uncover its secrets.
Rachel Lance is a biomedical engineer and blast-injury specialist who works as a scientific researcher on military diving projects at Duke University. Before returning to graduate school to earn her PhD, Dr. Lance spent several years as an engineer for the United States Navy, working to build specialized underwater equipment for use by navy divers, SEALs, and Marine Force Recon personnel. Her doctoral work presented the first equations to predict the risk of injury and fatality from underwater explosions and has already received numerous international citations. A native of suburban Detroit, Dr. Lance lives with her husband in Durham, North Carolina.
!!A reminder for PRH employees: If you are posting this article to a personal or other non-PRH account you must include the hashtag #TeamPRH.!!
Posted: April 8, 2020