Rachel Maddow's BLOWOUT Best Spoken Word Album GRAMMY® Winner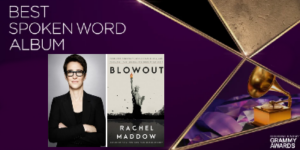 Music to our ears.
The members of the Recording Academy have voted the Random House Audio production of BLOWOUT by Rachel Maddow the winner of the 2021 GRAMMY® for Best Spoken Word Album. The host of her eponymous MSNBC nightly hour, reading from her Crown print and e-book, Maddow's BLOWOUT received its GRAMMY® Sunday afternoon, March 14, during the GRAMMY Awards Premiere Ceremony® in Los Angeles, ahead of the CBS-TV national telecast that evening.
BLOWOUT is our author's second GRAMMY® nomination. Her #1 bestselling DRIFT: The Unmooring of American Military Power was a Best Spoken Word Album nominee in 2012.
Penguin Random House Audio imprints' productions have been awarded the Best Spoken Word Album GRAMMY® four times in the last five years, previously in January 2020 with Michelle Obama's BECOMING.
BLOWOUT: Corrupted Democracy, Rogue State Russia, And The Richest, Most Destructive Industry On Earth, is a powerful expose of the oil and gas industry. The #1 bestselling Crown hardcover and e-Book, also appeared on the New York Times Audio bestseller list for three months, rising to number two. "Maddow's narration elevates the reading experience," praised Booklist .
It was produced by Aaron Blank, an Audio colleague, and a previous Spoken Word GRAMMY®-winning producer.
A shout-out to our second 2021 Finalist, the full-cast production of E.B. White's CHARLOTTE'S WEB starring Meryl Streep.
Over the years, the titles published by Penguin Random House Audio have received 46 GRAMMY® nominations, winning in the Spoken Word category 17 times.
Big, mellifluous congratulations to Rachel Maddow, Aaron Blank, and of course to our exceptional Audio division, led by Amanda D'Acierno.
Posted: March 15, 2021