Random House Audio Publishes New Oprah Book Club Pick, BEWILDERMENT by Richard Powers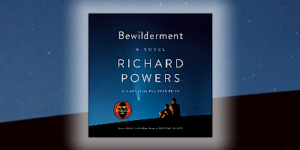 Oprah Winfrey announced that her latest Oprah's Book Club selection is BEWILDERMENT, a novel by Pulitzer Prize-winning and #1 New York Times bestselling author Richard Powers. Random House Audio publishes the audiobook edition, read by Edoardo Ballerini. The Oprah's Book Club episode featuring an in-depth discussion between Winfrey and Powers about the novel will premiere Friday, October 22, exclusively on Apple TV+ at apple.co/-oprahbookclub.
Powers commented, "I'm honored and moved to be named an 'Oprah Book Club' selection. 'Bewildered' doesn't begin to describe it. This is among the most rewarding recognitions I've received over my 40-year career."
Shortlisted for the 2021 Booker Prize, longlisted for the 2021 National Book Award in Fiction, and named one of the most anticipated books of 2021, BEWILDERMENT is a moving father-son story that also offers vital commentary about our beautiful, imperiled planet Earth. It follows the story of astrobiologist Theo Byrne who searches for life throughout the cosmos while single-handedly raising his unusual nine-year-old, Robin, following the death of his wife.
Posted: September 29, 2021