Random House Author Kelly Link Receives a MacArthur "Genius Grant"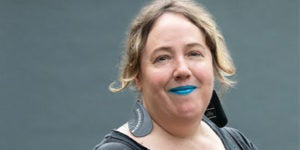 Random House author Kelly Link is among the MacArthur Foundation's 25 MacArthur Fellows of 2018, "extraordinarily creative people who inspire us all." She will receive a MacArthur Foundation "genius grant" – $625,000 paid out over five years to people who "show exceptional creativity in their work and the prospect for still more in the future." Link was praised by the Foundation for "pushing the boundaries of literary fiction in works that combine the surreal and fantastical with the concerns and emotional realism of contemporary life."
After being informed of her MacArthur grant, Link tweeted: "thank you, @macfound! this has been an implausibly wonderful day in which i have heard from so many old & new friends." On the MacArthur Foundation Twitter page, Link tweeted: "If you've never read my work before, then I would hope when you read it that you felt the way you did when you're a kid, that you felt a sense of wonder."– #MacFellow @haszombiesinit
Among Link's extraordinary short story collections are GET IN TROUBLE, MAGIC FOR BEGINNERS, and PRETTY MONSTERS. She and Gavin J. Grant have co-edited a number of anthologies, including multiple volumes of The Year's Best Fantasy and Horror and, for young adults, Monstrous Affections. She is also the co-founder of Small Beer Press. Link previously received a grant from the National Endowment for the Arts.
The John D. and Catherine T. MacArthur Foundation supports creative people, effective institutions, and influential networks building a more just, verdant, and peaceful world. MacArthur is placing a few big bets that truly significant progress is possible on some of the world's most pressing social challenges, including over-incarceration, global climate change, nuclear risk, and significantly increasing financial capital for the social sector.
Posted: October 8, 2018