Random House Author Wesley Morgan Wins 2022 Colby Award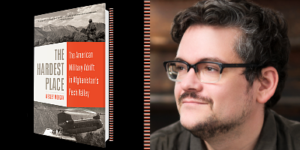 Random House author/journalist Wesley Morgan has won this year's William E. Colby Award for his book, THE HARDEST PLACE: The American Military Adrift in Afghanistan's Pech Valley. Norwich University in Northfield, Vermont, annually presents this award, now in its 23rd year, to a first solo work of fiction or nonfiction that has made a major contribution to the understanding of military history, intelligence operations or international affairs. The Colby Award was named for the late ambassador and former CIA director William E. Colby. Award winners receive a $5,000 author honorarium provided by the Pritzker Military Foundation.
"Wesley Morgan's THE HARDEST PLACE is a brilliant and important story of modern war, deserving of the highest praise. It is exactly the kind of work that the Colby Award is intended to highlight and celebrate," commented Alex Kershaw, Colby Award selection committee chairman, historian and bestselling author.
"I'm excited to receive this award for military and intelligence coverage, since using the lens of Kunar province's Pech valley to illustrate how those two subjects blended together at key points during the twenty-year U.S. war in the Afghan east was one of my goals with THE HARDEST PLACE," Morgan said. "It's also an honor to join the company of past award recipients, including an Army Ranger who served in Kunar, Paul Scharre; a Marine Harrier pilot who flew missions over the Pech, Michael Franzak; Bing West, who covered the war in the Pech and the Korengal; and Karl Marlantes, whose Vietnam novel Matterhorn I read just before my first trip to the Pech and was reminded of when the battalion commander in the valley turned out to be reading it as well."
Our congratulations to Mr. Morgan, his editor, Molly Turpin, and everyone at Random House.
THE HARDEST PLACE is the story of one of the twenty-first century's most unforgiving battlefields and a portrait of the American military that fought there. Morgan first visited the Pech in 2010, while he was still a college student embedding with military units as a freelancer. By then, the Pech and its infamous tributary the Korengal had become emblematic of the war, but Morgan found that few of the troops fighting there could explain why their remote outposts had been built. In THE HARDEST PLACE, he unravels the history those troops didn't know, captures the culture and reality of the war through both American and Afghan eyes, and reports on the snowballing American missteps that made each unit's job harder than the last as storied outfits like Marines, paratroopers, Rangers, Green Berets, and SEALs all took their turn.
Posted: May 20, 2022