Random House Big Ideas Night Presents The Political Landscape Author Panel via Zoom (8/11)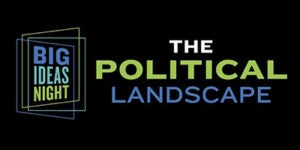 Random House's Big Ideas Night: The Political Landscape will feature Sarah Posner (UNHOLY: Why White Evangelicals Worship at the Altar of Donald Trump( Eddie Glaude Jr. (BEGIN AGAIN: James Baldwin's America and Its Urgent Lessons for Our Own), Gerald F. Seib (WE SHOULD HAVE SEEN IT COMING: From Reagan to Trump—A Front-Row Seat to a Political Revolution) , and John Dickerson (THE HARDEST JOB IN THE WORLD: The American Presidency) via  Zoom on Tuesday, August 11 at 8:00 pm (ET).  
This panel of authors will break down the issues at hand, explain what's at stake, and help us figure out where we go from here. Between an unprecedented global pandemic, the largest civil rights movement many of us have seen in our lifetimes, and a pivotal presidential election, to call the 2020 political landscape "complex" would be an understatement.
!! As a reminder, if you are posting to a personal or other non-PRH account you must include the hashtag #TeamPRH !! 
Posted: August 10, 2020