Random House Canada to Publish Chris Hadfield's THE DEFECTOR This Fall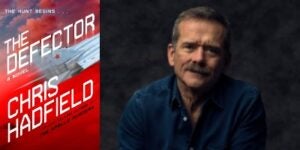 Random House Canada is pleased to announce that it will publish a new novel from acclaimed astronaut and blockbuster bestselling author Chris Hadfield.
THE DEFECTOR, an exceptional Cold War thriller and next book in The Apollo Murders series, charts the hunt for a shadowy Soviet defector, goes on sale on October 10, 2023, and will be published simultaneously by Quercus in the UK and Mulholland Books in the United States.
Author Chris Hadfield says, "Writing THE DEFECTOR was a joy, drawing on my own combat fighter/test pilot experiences, while interweaving the plot and characters with the real-world geopolitics and the secret rocket engine development of the early 1970s. That decade was such a similar time to now—political turmoil, armed conflict, Cold War tensions, social unrest—I hope it makes the high-tension thrills of THE DEFECTOR feel even more real."
Anne Collins, Random House Canada's executive editor and Hadfield's long-time editor says, "THE DEFECTOR is just as authentic as Chris Hadfield's #1 bestseller THE APOLLO MURDERS. What Chris doesn't know from first-hand experience—this time as a jet fighter pilot—he researches meticulously, and the result is another intricately plotted, edge-of-your-seat adventure that puts you in the middle of the action. It's like Top Gun written by a real top gun."
Random House Canada's publisher, Sue Kuruvilla, says, "We're privileged to be publishing Chris Hadfield's second thriller this fall. A much beloved Canadian icon and one of the most accomplished astronauts in the world, Chris once again takes readers on a gripping, action-packed journey into the heart of the Cold War."
To learn more about Chris Hadfield, his books, and his other work, visit chrishadfield.ca.
Posted: February 8, 2023