Random House Children's Books Takes Read for the Record Everywhere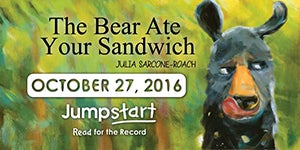 Jumpstart's 11th annual Read for the Record – the world's largest shared reading experience – featured Random House Children's Books as the official publisher partner, with THE BEAR ATE YOUR SANDWICH by Julia Sarcone-Roach (Alfred A. Knopf Books for Young Readers), the official campaign book, read far and wide yesterday. Since 2006, this 24-hour celebration has mobilized over 17 million people in an effort to address educational inequalities that leave too many children unprepared for kindergarten.
This year's Read for the Record was an incredible illustration of the campaign's reach and importance. Physical and digital event materials were distributed by Random House Children's Books nationwide to schools, libraries and bookstores, with everyone reading and enjoying THE BEAR ATE YOUR SANDWICH.
A host of celebrities supported the campaign on social media, including Julianne Moore (774k Twitter followers), Danica McKellar (120k Twitter followers), Lauren Conrad (3.54million Twitter followers), Bridget Moynahan (56k Twitter followers) and Scott Kelly (2.06million Twitter followers). See a sampling of the wide array of terrific posts below.
CLICK HERE TO WATCH A READING OF THE BEAR ATE YOUR SANDWICH
Posted: October 28, 2016