Random House Presents 5 Authors and an Editor Discussing "A Different Thanksgiving" via Zoom (11/17)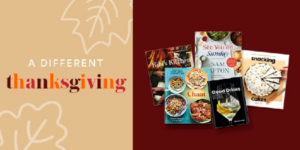 Random House Virtual Events presents "A Different Thanksgiving," with five authors sharing recipes and cooking stories with Clarkson Potter Executive Editor Jennifer Sit via Zoom on Tuesday, November 17 at 8:00 pm (ET).
At this free virtual event, authors Sam Sifton (See You on Sunday), Julia Bainbridge (Good Drinks), Hawa Hassan (In Bibi's Kitchen), Maneet Chauhan (Chaat), and Yossy Arefi (Snacking Cakes), will come together for a panel discussion, moderated by Jennifer Sit. They will answer questions and provide culinary guidance.
Thanksgiving is a holiday about food, family, friendship, and gratitude—and those ideas may be the only things that remain unchanged at your celebration this year. Whether you're paring down, going virtual, or in need of a recipe refresher, these authors are here to spark ideas and offer suggestions so you can spend less time stressing and more time feeling thankful.
!! As a reminder, if you are posting to a personal or other non-PRH account you must include the hashtag #TeamPRH !!
Posted: November 14, 2020