Random House Presents "Summer Open House" via Zoom This Wednesday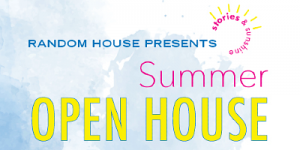 Be the first to read this year's hottest books with Random House's Summer Open House. Join us for this virtual event on Wednesday, July 14, from 7:00PM to 9:00PM via Zoom to discover your future favorite reads, and hear from the endlessly creative authors behind them.
When you purchase a ticket, you'll receive:
A book of your choice by one of the event's featured authors
A digital advance copy of Jodi Picoult's next novel, Wish You Were Here—5 months before it's on sale
A free audiobook download of Debbie Macomber's It's Better This Way, read by Thérèse Plummer
Access to the Zoom event—and the recording to watch on your own time
And a bundle of discounts from our partners on brownies, tea, knitting patterns, vegan jam, and more
The Romance panel, with Mary Bly (Lizzie & Dante), Jackie Fraser (The Bookshop of Second Chances), Sara Jafari (The Mismatch), and Sophie Kinsella (Love Your Life), will introduce us to the books that will tug on our heartstrings and make us swoon.
And at the Mystery/Thriller panel, Caroline Kepnes (You Love Me), Catherine Steadman (The Disappearing Act), Laura McHugh (What's Done in Darkness), and Andrea Bartz (We Were Never Here) will let us into the dark basements of their minds where they develop the twists, turns, and characters that keep us up at night.
At the Literary Fiction panel, authors Pik-Shuen Fung (Ghost Forest), Violet Kupersmith (Build Your House Around My Body), Maurice Carlos Ruffin (We Cast a Shadow / The Ones Who Don't Say They Love You), and Anuk Arudpragasam (A Passage North) will discuss the novels that will feed your mind and nourish your soul.
Finally, the Hot Summer Reads panel, featuring Lauren Weisberger (Where the Grass Is Green and the Girls Are Pretty), Beck Dorey-Stein (Rock the Boat), and Chuck Wendig (The Book of Accidents), will inspire all the beach, pool, and hammock reading you won't be able to put down.
Register for this event on Eventbrite. We can't wait to see you there!
Posted: July 12, 2021