Random House Relaunches YouTube Channel to Harness the Power of Video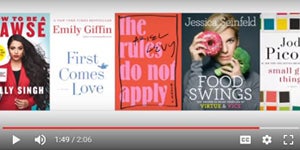 Video content continues to rise to the top of how consumers are choosing to access information and entertainment.  In a further step towards harnessing the power of online video, the Random House Publishing Group has relaunched its YouTube Channel with a compelling and inspiring trailer titled "Who is Random House? Highlights from Our Authors." Watch the trailer here.   
"We work to promote the power of the written word, but we must utilize every medium our readers are consuming to help them discover our books," said Theresa Zoro, Executive Vice President, Director of Publicity, Random House. "Our strategy moving forward is to meet them where they are, and create a YouTube Channel that is searchable and informative."
Random House Social Media Publicist Danielle Siess is spearheading this project, in collaboration with the corporate video team led by John Clinton. Their collective goal is to continue to explore innovative and creative ways to reach readers.
Interesting facts: YouTube remains the second largest search engine on the Web, right behind Google. And Google has adjusted its search settings so videos are shown first, ahead of text and photo online content.
Posted: May 17, 2017