Random House Special Events to Cap Stellar 2021 With Virtual Holiday House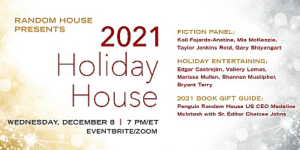 The Random House Special Events program is capping off a stellar year of virtual event programming that reached over 40,000 readers with four blockbuster events and nearly 30,000 books sold. With events for THE 1619 PROJECT: A New Origin Story by Nikole Hannah-Jones and the New York Times Magazine (One World), Diana Gabaldon's ninth Outlander novel, GO TELL THE BEES THAT I AM GONE (Delacorte Press), Glennon Doyle's GET UNTAMED: The Journal (How to Quit Pleasing and Start Living) (Clarkson Potter), and ATLAS OF THE HEART by Brené Brown (Random House), the Random House Special Events team, in conjunction with the division's integrated publicity and marketing teams, partnered with 198 bookstores across the country to help them offer their customers event experiences for some of the biggest book publications of 2021.
As pandemic restrictions continued to impact in-person events over the year, the Random House Special Events team—in an ongoing effort to bring more authors closer to readers and to our bookselling partners—expanded their efforts to produce and execute large-scale, wide-reaching, multi-bookseller virtual events that captured an expansive audience and national geography while also affording the books and authors earned media and partnership opportunities. In 2021 alone, RH Special Events has hosted more than 53 events, attracting more than 65,000 registrants and delivering nearly 200,000 live event views. These events also sold more than 28,000 books, with revenue topping over $1 million.
The consumer engagement team has also been able to add more than 40,000 new contacts to their newsletter portfolio. Some of the other authors featured in these programs were Lin-Manual Miranda, Quiara Alegría Hudes, and Jeremy McCarter for IN THE HEIGHTS (Random House); a multi-night series focused on Banned Books in the well-regarded One World Ideas x Action series featuring Heather McGhee, Ibram X. Kendi, Nikole Hanna-Jones, Ta-Nehisi Coates, and Bryan Stevenson, among others; and the program's flagship Open House programs that offer panels discussions and interactive programming with multiple authors.
"As the world has started to open up more, we have begun to implement a hybrid event strategy for our books here at the Random House group," says Theresa Zoro, EVP, Executive Creative Director Marketing and Public Relations. "We are able to combine the best of the in-person author appearances with the flexibility and scale we've gained from these virtual events. The added bonus is we can really get creative with programming when we offer virtual events, such as our taped interview with and Outlander star Sam Heughan for our Evening with Diana Gabaldon, or when we've included new tools like Chatalyze and Social Hour to offer more intimate one-on-ones with guests and authors."
The final Special Event program for the year will take place this Wednesday, December 8, beginning at 7:00 pm (ET)—the annual Holiday House, an event that was hosted at 1745 Broadway pre-pandemic but has now pivoted to become a virtual event via Zoom. It features Random House editor Chelcee Johns chatting with PRH U.S. CEO Madeline McIntosh about her holiday gift book ideas; a fiction panel featuring Taylor Jenkins Reid, Kali Fajardo-Anstine, Mia McKenzie, and Gary Shteyngart; and a conversation about entertaining featuring Bryant Terry, Vallery Lomas, Melissa Mullen, Shannon Mustipher, and Edgar Castrejón.
For tickets, click here. Please use the code: RhGuest
Posted: December 7, 2021