Random House to Present "Well Enough: Beyond Pride" Virtual Event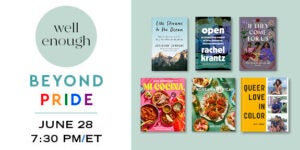 Join Random House and a panel of LGBTQ+ authors for Well Enough: Beyond Pride, on Tuesday, June 28, at 7:30 pm (ET) for a live, virtual conversation via  Zoom about what it means to be well enough as a queer person. You'll hear from an array of authors—from memoirists to cookbook authors to fiction writers—about the day-to-day practices they take with them from the kitchen to the laptop to the road, as ways of nourishing their people and themselves with love and acceptance. 
At the end of a festive month of Pride celebrations, after the glitter has been swept, the parties have tapered, and the sounds of cheer have faded (slightly!) in the streets—how do we stay connected to ourselves and the communities we champion, year-round? Fatimah Asghar (If They Come For Us), Jedidiah Jenkins (Like Streams to the Ocean), Eric Kim (Korean American), Rachel Krantz (Open), and Rick Martínez (Mi Cocina) join Jamal Jordan (Queer Love in Color) to discuss the small and big spaces they cultivate with a sense of pride and joy throughout the year.
Panelists 
You can register for the free event here.
Or join directly Zoom.
Webinar ID: 976 9316 9224
Passcode: 424098
Posted: June 23, 2022