Random House to Publish THE BEAUTIFUL ONES by Prince This Fall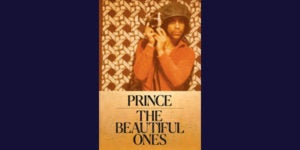 Random House is thrilled to announce the publication on October 29, 2019, of  THE BEAUTIFUL ONES by Prince, the American artistic visionary—singer, songwriter, musician, producer, actor, and filmmaker. Originally acquired from Prince in 2016, this newly envisioned memoir will feature never-before-seen photos, original scrapbooks and lyric sheets written in Prince's own hand, and the early pages of the memoir Prince began writing before his death, framed by an introduction from Dan Piepenbring, the writer handpicked by Prince to collaborate on this project. World rights were acquired by Chris Jackson from Esther Newberg and Dan Kirschen at ICM Partners. The memoir is being published in an exclusive partnership and in collaboration with the Prince Estate. 
THE BEAUTIFUL ONES is the deeply personal account of how Prince Rogers Nelson became the Prince we know: the real-time story of a kid absorbing the world around him and creating a persona, an artistic vision, and a life, before the hits and the fame that would come to define him. The book will span from Prince's childhood to his early years as a musician to the cusp of international stardom, using Prince's own writings, a scrapbook of his personal photos, and the original handwritten lyric sheets for many of his most iconic songs, which he kept at Paisley Park.  The book depicts Prince's evolution through deeply revealing, never-before-shared images and memories and culminates with his original handwritten treatment for his masterwork, Purple Rain. The memoir will be framed by Piepenbring's riveting, moving introduction about his short but profound collaboration with Prince in his final days—a time when Prince was thinking deeply about how to reveal more of himself and his ideas to the world, while retaining the mystery and mystique he'd so carefully cultivated—and by annotations that provide context to the book's images.
Chris Jackson comments, "Prince is a towering figure in global culture and his music has been the soundtrack for untold numbers of people—including me—for more than a generation; his creative genius has provided the musical landscape of our lives. His death was an unfathomable loss, but this book—full of writing from his own hand and images that he carefully preserved at Paisley Park—is a beautiful tribute to his life. It's also much more than that: it's a genuinely moving and energizing literary work, full of Prince's ideas and vision, his voice and image. It's a treasure not just for Prince fans but for anyone who wants to see one of our greatest creative artists and original minds at work on his greatest creation: himself."
Prince Rogers Nelson remains one of the most popular and influential musical acts of all time. Known for his style and range, Prince's prolific music career included an ever-evolving sound that blended pop, R&B, hip-hop, jazz, and soul. Prince sold more than 100 million albums worldwide, making him one of the bestselling artists of all time. He won seven GRAMMY® Awards, a Golden Globe Award, and an Academy Award® for the film Purple Rain. He was inducted into the Rock and Roll Hall of Fame in 2004, the first year of his eligibility. Prince tragically passed away at his Paisley Park home on April 21, 2016. His legacy lives on through the timeless messages of love in his music and the countless ways his work has touched lives.
Dan Piepenbring is an advisory editor at The Paris Review and the coauthor of Chaos.
Posted: April 23, 2019