Random House Virtual Happy Hour: Robert Simonson on Creating the Martini Cocktail via Instagram (4/23)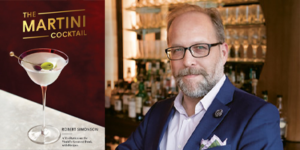 Robert Simonson, author of THE MARTINI COCKTAIL (Ten Speed Press), among other books, will be featured on Random House's virtual Happy Hour, showing how to create the martini cocktail via Instagram on Thursday, April 23, at 4:00pm (ET).
THE MARTINI COCKTAIL is the first book in decades to celebrate and explore the history of the most iconic of classic cocktails, with 50 recipes. Simonson uncovers in his exploration of the long and tangled history of the classic martini and its subtle variations. Readers will discover everything you need to know about what components make a great martini, as well as a collection of 50 recipes to create your own drinks (and form your own opinions) at home.
Simonson writes about cocktails, spirits, bars, and bartenders for The New York Times. He is also contributing editor and columnist at PUNCH. His books include The Old-Fashioned (2014), A Proper Drink (2016) and 3-Ingredient Cocktails (2017), which was nominated for a 2018 James Beard Award. He was also a primary contributor to The Essential New York Times Book of Cocktails (2015). Simonson won the 2019 Spirited Award for Best Cocktail and Spirits Writer, and his work, which has also appeared in Saveur, Bon Appetit, Food & Wine, New York magazine, and Lucky Peach, has been nominated for a total of eleven Spirited Awards and two IACP Awards. A native of Wisconsin, he lives in Brooklyn.
!! As a reminder, if you are posting to a personal or other non-PRH account you must include the hashtag #TeamPRH !!
Posted: April 22, 2020