Random House's Chris Jackson on the Creation of Prince's THE BEAUTIFUL ONES: "A Handbook for the Brilliant Community"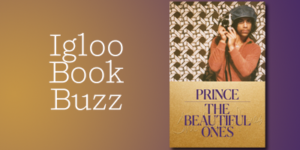 Our new Igloo Book Buzz selection is THE BEAUTIFUL ONES by Prince, published today, Tuesday, October 29, by Spiegel & Grau/Random House. This highly-anticipated release is a brilliant coming-of-age-and-into-superstardom story of one of the greatest artists of all time, in his own words—featuring never-before-seen photos, original scrapbooks and lyric sheets, and the exquisite memoir Prince began writing before his tragic death. Much more than a tribute to an icon, this book is an original and energizing literary work in its own right, full of Prince's ideas and vision, his voice and image—his undying gift to the world.
Chris Jackson, VP, Editor-in-Chief, and Publisher of One World, was intimately involved with the creation of THE BEAUTIFUL ONES, and shares, "This book has been one of the most unusual and sad and beautiful experiences of my publishing life. I loved Prince's music, most especially the glittering string of genius albums he released from the late 1970s to the early 1990s – music that was both a soundtrack for the whole globe and my most intimate companion via my puffy Walkman headphones. Going to Paisley Park and meeting this genius in the flesh – somehow both ethereal and earthy and quick and funny and warm – and then being chosen by him to work on his book felt like entering a dream. And sure enough the dream seemed to end after only a few months when he died so unexpectedly. But we decided to press on – he'd already written a clutch of extraordinary pages and the challenge was figuring out how to publish the words he'd left behind in a way that would honor the mandates he'd given us for his book. That meant making multiple trips back to Paisley Park, along with his co-author Dan Piepenbring, the agent Dan Kirschen, and Julie Grau, the publisher, where we discovered never-before-seen writing and photos that we could combine with the early pages he'd written to provide a fresh and revealing portrait of the artist, while maintaining the mystique he treasured.
"We made some decisions based on Prince's own guidelines – he wanted a collaborative book, so while the body of the book is entirely composed of Prince's writing and images, it's framed by a beautifully written introduction and detailed, revelatory endnotes from Piepenbring. He wanted a book that was ultimately about creativity and freedom – so we chose to limit the book to his greatest work of creation, his self-creation, seen in his early life and the years before he became an international star. He wanted it to be called THE BEAUTIFUL ONES and he wanted it to start with his mother and father, and so it is: the first lines of the book, written in Prince's own maddeningly idiosyncratic cursive, are "My mother's eyes." I'm so grateful that we were able to see this project through to publication and I can't wait for his fans—old and new—to read what Prince called a "handbook for the brilliant community."
Posted: October 29, 2019