RH's LINCOLN IN THE BARDO by George Saunders 2017 Man Booker Winner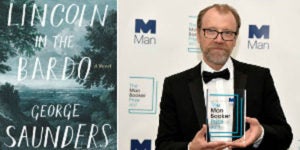 "The form and style of this utterly original novel, reveals a witty, intelligent, and deeply moving narrative,"  Lola, Baroness Young, Chair of Judges, is describing the rapturously reviewed and New York Times number one bestselling LINCOLN IN THE BARDO by George Saunders which has won the 2017 Man Booker Prize for Fiction, one of the most renowned annual international literary honors.  First awarded in 1969, the Prize is open for writers of any nationality, writing in English, and published in the U.K.
LINCOLN IN THE BARDO is published in the U.S. as a Random House hardcover and e-book, and a Random House Audio.  Penguin Random House Canada distributes the Random House edition.
Writing in the New York Times Book Review, Colson Whitehead said of the novel: "A luminous feat of generosity and humanism.  Here is a crucible for heroic American identity; fearful but unflagging; hopeful even in tragedy; staggering, however tentatively, toward a better world."
Congratulation to George Saunders, his editor Andy Ward, the Random House and Random House Audio publication teams, and all our 2017 Man Booker short and long listed authors published across our imprints.
As their publisher, we are humbled by the recognition bestowed in 2017 upon Nobel Literature Laureate Kazuo Ishiguro, our four Pulitzer Prize winners, and now George Saunders as recipients of this year's highest literary honors
Posted: October 18, 2017