Randy Ribay Featured on Asian Diaspora Experience Panel via Livestream (5/8)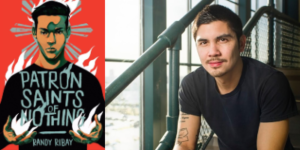 Randy Ribay, author of PATRON SAINTS OF NOTHING (Kokila/Penguin), will be featured on the Asian Author Alliance Asian Diaspora Experience Panel, in honor of Asian Pacific American Heritage Month, via Livestream on Friday, May 8 at 7:00pm (ET).
A National Book Award finalist, PATRON SAINTS OF NOTHING A powerful coming-of-age story about grief, guilt, and the risks a Filipino-American teenager takes to uncover the truth about his cousin's murder. As gripping as it is lyrical, Patron Saints of Nothing, is a page-turning portrayal of the struggle to reconcile faith, family, and immigrant identity.
Randy Ribay was born in the Philippines and raised in the Midwest. He is also the author of After the Shot Drops and An Infinite Number of Parallel Universes. He earned his BA in English Literature from the University of Colorado at Boulder and his Master's Degree in Language and Literacy from Harvard Graduate School of Education. He currently teaches English and lives in the San Francisco Bay Area.
!! As a reminder, if you are a PRH employee posting to a personal or other non-PRH account, you must include the hashtag #TeamPRH !! 
Posted: May 7, 2020