Ransom Riggs Reads Adam Rubin's HIGH FIVE on Facebook Live (4/3)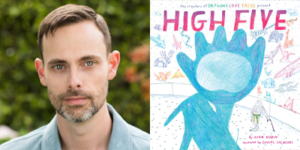 Ransom Riggs (@ransomriggs), author of Miss Peregrine's Home for Peculiar Children, reads HIGH FIVE by Adam Rubin (Dial Books for Young Readers) on Facebook Live on Friday, April 3, at 3:00pm (ET).
The #1 New York Times bestseller from the creators of the Dragons Love Tacos, HIGH FIVE is a rollicking, rhyme-tastic, interactive high-five competition–starring YOU! While in our current era of social distancing, the physical "high five" is not being practiced. Learn secrets to the "virtual high five."
Adam Rubin is the #1 New York Times best-selling author of ten critically-acclaimed picture books, including the Those Darn Squirrels trilogy, Dragons Love Tacos, Dragons Love Tacos 2: The Sequel, Secret Pizza Party, Robo-Sauce and El Chupacabras. He spent ten years working as a creative director in the advertising industry before leaving his day job to write full-time. In between writing projects, he designs and collects optical illusions, puzzles and games. His favorite color is blue, his favorite food is fried chicken, and his favorite animal is the otter. Adam currently lives in Barcelona, Spain.
Posted: April 1, 2020