Ransom Riggs' TALES OF THE PECULIAR to Launch with Nationwide Celebrations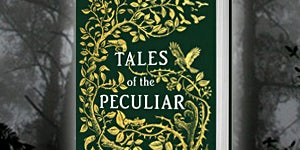 This Saturday, September 3, marks the highly anticipated launch of Ransom Riggs' new collection of fairy tales, TALES OF THE PECULIAR (Dutton Books for Young Readers) with celebrations taking place in over a thousand bookstores nationwide. Loop Day (September 3) is a holiday observed by the characters of the Miss Peregrine's Peculiar Children series and in the lead up to Loop Day, Riggs has been unveiling photos and letters from Miss Crake, one of Miss Peregrine's sister ymbrynes, that will reveal a secret time loop before it resets on Saturday. The photos can be seen here.
Participating bookstores will receive TALES OF THE PECULIAR giveaway items to help celebrate the day and one store, in particular, will be named the grand prize winner with a "peculiar" watch for every customer in the store who purchases a copy of TALES OF THE PECULIAR that day.
Ransom Riggs will be visiting five bookstores in and around San Francisco on Loop Day and additional tour stops begin on 9/6. View the full tour schedule here.
Posted: September 1, 2016