Razorbill's Publisher, Editor and Author on A TORCH AGAINST THE NIGHT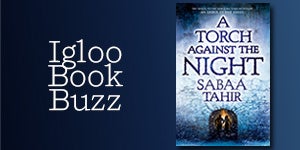 This week's Igloo Book Buzz, Sabaa Tahir's A TORCH AGAINST THE NIGHT, released by Razorbill on Tuesday (8/30), features personal insights from the YA novel's publisher and editor as well as the author herself. TORCH is the follow up to Tahir's New York Times bestselling, critically acclaimed debut, AN EMBER IN THE ASHES. Set in a world inspired by ancient Rome, Ember tells the story of Laia and Elias, a slave fighting for her family and a soldier fighting for his freedom under the harsh rule of the Martial Empire. The book garnered comparisons to such cultural touchstones as Harry Potter, The Hunger Games and Game of Thrones, won the first-ever People's Choice Best Fantasy Book Award, and appeared on a dozen different "Best of 2015" lists.
A TORCH AGAINST THE NIGHT is even better than Tahir's groundbreaking debut, says Ben Schrank, President & Publisher of Razorbill: "Even now, I'm astonished at the complexity of the journey Sabaa Tahir takes us on in A TORCH AGAINST THE NIGHT. It's rare that an author grows so much between a debut and a sequel and Sabaa, by her own admission, is overjoyed at how much deeper and more dramatic her storytelling is in Torch. I've been desperate to share her achievement ever since I read the first draft so I'm very proud and happy now that this book is finally out in the world."
The increased intensity of TORCH is no accident. Tahir picked up her own pace in writing it, and decided to approach the book as more than a sequel: "It took me six years, a boatload of research, and a relentless kind of stubbornness to write AN EMBER IN THE ASHES. It took two years, an unmentionable amount of chocolate, and a crazed kind of obsession to write A TORCH AGAINST THE NIGHT," says Tahir. "I realized early on that I didn't want TORCH to feel like the second book in a series. While it was essential to follow Laia and Elias as they grew and changed, it was also important to show that their struggle is no less harrowing now that they've left Blackcliff.  I truly hope that the result is a story that will have readers biting their nails until the wee hours."
Tahir will celebrate the release of TORCH with a launch event at Kepler's Books in Menlo Park, CA, followed by a national tour that will feature guest appearances by such buzzed about YA authors as Stephane Garber (Caraval), Laini Taylor (Daughter of Smoke and Bone series), Renee Ahdieh (The Wrath and the Dawn), Jennifer Lynne Barnes (The Fixer), and Nicola Yoon (Everything, Everything). Tahir's fans, who call themselves "Emberlings," will be able to meet the author at her events in Seattle, Portland, Raleigh, D.C., NYC, Greater Boston / Providence, St. Louis, Chicago, Oklahoma City, and Los Angeles, as well as at appearances throughout the fall at major consumer festivals such as the Decatur Book Festival (Atlanta), Texas Teen Book Festival (Austin), and YallFest (Charleston).
Marissa Grossman, Assistant Editor at Razorbill and part of Tahir's editorial team, says the hype is justified: "No one keeps me turning the pages like Sabaa Tahir. Since devouring the first draft of A Torch Against the Night, I've jumped at every chance to discuss the novel with early readers and fellow Emberlings. But now is the moment I've been waiting for: the day when anyone and everyone can read Torch and experience this exquisite, terrifying, and epic sequel that I can't stop talking about."
Early raves for the Indie Next Pick offer a consensus—A TORCH AGAINST THE NIGHT is a triumphant return for Tahir:
"Spectacular."—Entertainment Weekly
"The plot runs like a well-oiled machine, ratcheting up the tension with every chapter."—NPR.org
« "Even higher stakes than its predecessor . . . thrilling."—Publishers Weekly, starred review
« "Tahir proves to be a master of suspense and a canny practitioner of the cliffhanger, riveting readers' attention throughout. . . . [An] action-packed, breathlessly paced story."—Booklist, starred review
"If you thought book one was tension-filled, just wait for this one."—Bustle.com
"As heartbreaking as it is action-packed, delivering a worthy second installment in Tahir's bestselling series."—Paste
With more major media coverage still to come, including a full-page profile in Entertainment Weekly and interviews on NPR's "Weekend Edition" and PRI's "The World," one thing is for sure: reviewers Schrank and Grossman won't be the only ones who can't stop talking about A TORCH AGAINST THE NIGHT, a book being positioned as the biggest YA fantasy release of the year.
Posted: August 29, 2016