Read The Atlantic Essay by Knopf's Jonathan Segal on Sonny Mehta & Dan Frank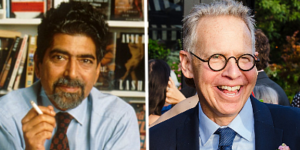 Jonathan Segal, Vice President and Executive Editor at Knopf, has written an intimate and perceptive essay about his late two great friends and colleagues: Sonny Mehta, office neighbor, Knopf head and Editor-in-Chief, who died in late December 2019, and Dan Frank, Pantheon Editorial Director, whom we lost May 24. Just published by The Atlantic, his essay expands upon his recollective appreciation for his subjects' professional and personal uniqueness to discuss his impressions of the impact social media and social-justice movements are having on the book-publishing culture Mehta and Frank helped define.
Click here for this must-read.
Posted: July 22, 2021