Rebecca Mahoney to Launch Her Debut Novel in Discussion with Sarah Glenn Marsh via Crowdcast (2/23)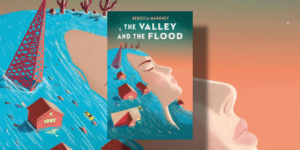 Porter Square Books is hosting a launch event for THE VALLEY AND THE FLOOD (Razorbill) with author Rebecca Mahoney in conversation with fellow Razorbill author Sarah Glenn Marsh via Crowdcast on Tuesday, February 23 at 7:00 pm (ET).
Debut author Rebecca Mahoney delivers an immersive and captivating novel about magical places, found family, the power of grief and memory, and the journey toward reconciling who you think you've become with the person you've been all along.
Rebecca Mahoney is a young adult and middle grade writer, and the co-creator of audio drama serial The Bridge Podcast. She's a strong believer in the cathartic power of all things fantastical and creepy in children's literature–and she knows firsthand that ghosts, monsters, and the unknown can give you the language you need to understand yourself. She was raised in Windham, New Hampshire, currently resides in Somerville, Massachusetts, and spends her spare time watching horror movies, collecting cloche hats, and cursing sailors at sea.
Sarah Glenn Marsh has been an avid reader from the day her dad handed her a copy of The Hobbit and promised it would change her life; she's been making up words and worlds ever since. When she's not writing, Sarah enjoys painting, ghost hunting, traveling, and all things nerdy. She lives in Richmond, Virginia, with her husband and their menagerie: four rescued sighthounds, a bird, and many fish. She is the author of Fear the Drowning Deep, Reign of the Fallen, and Song of the Dead.
!! As a reminder, if you are posting to a personal or other non-PRH account you must include the hashtag #TeamPRH !!
Posted: February 19, 2021