Redford & Spacek in Film Adaptation of David Grann's THE OLD MAN AND THE GUN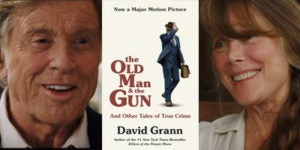 Attention fans of Robert Redford, Sissy Spacek and David Grann: the film adaptation of Grann's story, "The Old Man and the Gun," opens in theaters today, September 28. Starring Redford, in what is being billed as his final screen role, The Old Man & the Gun is based on a story by Grann that was first published in The New Yorker in 2003, then included in Grann's 2010 collection, THE DEVIL AND SHERLOCK HOLMES: Tales of Murder, Madness and Obsession (Doubleday/Vintage), and now headlines a movie tie-in edition, THE OLD MAN & THE GUN: And Other Tales of True Crime, published by Vintage earlier this month.
The Old Man & the Gun is about a bank robber and prison escape artist who modeled himself after figures like Pretty Boy Floyd and who, even in his seventies, refuses to retire, serving his stick-ups with a smile. Directed by David Lowery, the film also stars Spacek, Casey Affleck, Danny Glover and Tom Waits.
Watch the trailer:
Posted: September 28, 2018