Reese Witherspoon and GMA Pick Putnam Debut Novels for Their Book Clubs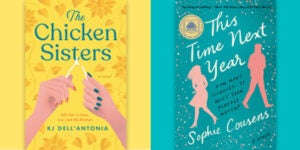 This month, two debut novels from G.P. Putnam's Sons have been selected as major book club picks. Reese Witherspoon has chosen KJ Dell'Antonia's THE CHICKEN SISTERS as her "Reese's Book Club x Hello Sunshine" book pick for December, and Good Morning America has selected Sophie Cousens's THIS TIME NEXT YEAR as their GMA Book Club pick for December. Both announcements were made on December 1, their respective publication days, by Reese Witherspoon, and on Good Morning America in the 8:00 a.m. hour. This is the first time G.P. Putnam's Sons has had two major book club picks in the same month.
Reese's pick is KJ Dell'Antonia's warm and funny debut novel, THE CHICKEN SISTERS, that tells the story of three generations, two chicken shacks, and one reality TV show that brings with it a recipe for disaster. Dell'Antonia, a New York Times contributor and former editor of the paper's MotherLode blog, brilliantly captures the complicated push-pull of family dynamics in this heartwarming story of love and loss, sibling bonds, family rifts, and the power of really, really good fried chicken. THE CHICKEN SISTERS has garnered a ton of prepublication buzz with a starred LJ review, coverage in Parents Magazine, Country Living, and reading roundups from outlets like GMA.com and Romper. On stands now is Real Simple's December issue calling it and "uplifting charmer". THE CHICKEN SISTERS is also a December Indie Next pick and KJ has virtual events lined up at Blue Willow in Houston, Watermark in Wichita and her local launch with Still North in New Hampshire.
And GMA's pick, THIS TIME NEXT YEAR, is poised to be a feel-good holiday favorite. A warm, moving, and lushly romantic tale of one would-be couple's missed connections, chance encounters, and fated reunions. It is a debut novel by British writer and former TV producer Sophie Cousens, and tells the dazzling story of a man and woman who were born at the same hospital on New Year's Day and meet on their thirtieth birthday, unaware of the many times their paths almost crossed on previous New Year's Eves. THIS TIME NEXT YEAR was a SkimmReads pick in November, andLibrary Journal, Goodreads (twice!), E! Online, The Everygirl, [Elite%20Daily]Elite Daily, and Biblio Lifestyle all call it one of the most anticipated books of the season.
Posted: December 4, 2020