Reese Witherspoon's New Book Club Pick is Chanel Cleeton's NEXT YEAR IN HAVANA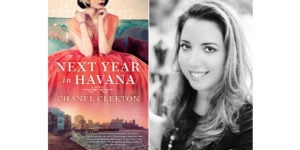 Reese Witherspoon announced yesterday that the July Reese's Book Club selection is Chanel Cleeton's novel NEXT YEAR IN HAVANA, published by Berkley in February.
In her Instagram announcement, Witherspoon called NEXT YEAR IN HAVANA "a beautiful novel that's full of forbidden passions, family secrets, and a lot of courage and sacrifice."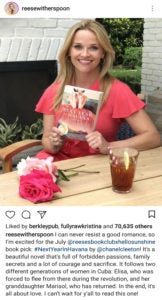 Loosely based on Chanel's own family history, NEXT YEAR IN HAVANA unfolds in two different time periods. The modern story follows Marisol, a young woman from Miami who travels to Havana to honor her late grandmother's dying wish—and unearths a family secret hidden since the Cuban Revolution. The second storyline reveals her grandmother Elisa's experiences in 1958 Cuba as Fidel Castro is rising to power.
Berkley will release WHEN WE LEFT CUBA, a follow-up novel about Elisa's beautiful and audacious sister Beatriz, in April 2019.
Posted: July 3, 2018