Register Your Kids for RHCB and Sylvan Learning's First-Ever Reading Adventure Book Club, Featuring the Magic Tree House Series!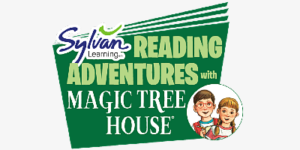 Wondering how to keep your kids reading, learning, and entertained over their winter break? Sign them up for Random House Children's Books and Sylvan Learning's first-ever Sylvan Reading Adventure Book Club!
Perfect for children ages 6-9, Sylvan Learning's inaugural book club will bring to life the beloved Magic Tree House series by Mary Pope Osborne in an exciting and interactive new format that goes far beyond just reading. Participants will enjoy a week's worth of fun and engaging content ranging from crafts and other activities to video events with author Mary Pope Osborne and illustrator AG Ford.
Comprised of five themed activity packs, the book club will provide entertainment centered around theater and performing arts, listening & storytelling, drawing, trivia, and arts & crafts. At the end of the journey, participants will unlock a special surprise from Mary Pope Osborne and be able to enter a Sylvan Nation sweepstakes to win their very own custom library of Magic Tree House books!
Part of Sylvan's December "Our Gift to You" campaign, the Sylvan Reading Adventures Book Club is the perfect holiday gift for families across the country who are already contending with a year of disrupted learning and want to keep their children excited about reading over the break. It's also a welcomed new program for Sylvan's hundreds of franchisees, who can bring the book club to their locations to offer in-center or online.
The program will be available to all Sylvan Nation families through January 5. To learn more and participate, create a free Sylvan Nation account at www.SylvanNation.com.
Posted: December 14, 2020