Remembering Doubleday/Broadway/Crown/Penguin Editor Charlie Conrad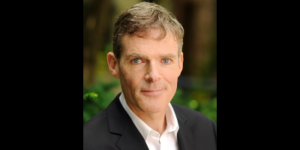 Celebrated editor and former colleague Charlie Conrad died on November 21, 2021, from complications of ALS. He was 61.
Conrad edited some of the biggest names in narrative nonfiction, among them Frances Mayes and Jon Krakauer. His illustrious career spanned several publishing imprints – including Doubleday, Broadway, Crown, and Penguin – and genres of travel, memoir, biography, and history.
A life-long reader, Conrad hailed from Conrad, Montana, was a graduate of the University of Montana, and later received his Master of Library Science degree at the University of Wisconsin. After attending the Denver Publishing Institute, Conrad began his decades-long editorial career at NAL and Warner Books, when mass market publishing was flourishing. A firm believer in the power of backlist, he skillfully landed paperback rights to such high-profile juggernauts as THE HOT ZONE, UNDER THE TUSCAN SUN and INTO THE WILD, but also cleverly pushed to reissue out-of-print titles like CATCH ME IF YOU CAN, before they became blockbusters.
His knack for spotting backlist bestsellers with multiple lives remains relevant. He edited THE LAST DUEL, a recent major motion picture, and THE TERMINAL SPY, the basis for a just-announced HBO series. Conrad had a keen and wide-ranging editorial eye for acquisitions, whether it was an unlikely bestseller, such as DR. MUTTER'S MARVELS, or spotting an acclaimed novel such as THE FORGIVEN (also headed for the big screen).
Charlie was a voracious reader and consumer of magazines and newspapers (he preferred old-school print), a lover of music, good food and wine, and an avid NPR listener. He was also a devoted family man, a regular patron of the Montclair Public Library, a committed long-distance runner (Charlie was still running until last December), and had a huge love of all things Italy.
He is survived by his wife, Becky Cabaza, and son, Carlos Conrad.
A memorial service for Charlie Conrad will be held in the spring of 2022 with further details to come. Donations in Conrad's memory can be made to the scholarship established in his name through the Montclair Scholarship Fund (montclairscholarshipfund.org).
He was beloved by all.
Posted: November 30, 2021