Renée Ahdieh and Marie Lu Talk "Worldbuilding Beyond Wikipedia" via Zoom (4/26)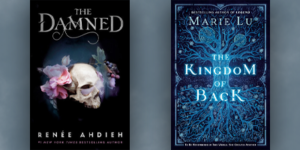 Renée Ahdieh, whose latest book is the upcoming YA/Fantasy novel, THE DAMNED (Putnam Books for Young Readers) and Marie Lu, THE KINGDOM OF BACK (Putnam Books for Young Readers) will address "How do you do the research to write historical fiction, and when do you have to let the history books go and start your own world building?" at the virtual festival, YALLSTAYHOME, via Zoom, on Sunday, April 26, at 4:00pm (ET).
THE DAMNED, the latest installment in Ahdieh's The Beautiful series, is as decadent, thrilling, and mysterious as her last, as she continues her bestselling fantasy series.
In THE KINGDOM OF BACK, #1 New York Times bestselling author Marie Lu's first work of historical fiction, she spins a lush, lyrically-told story of music, magic, and the unbreakable bond between a brother and sister.
!!A reminder for PRH employees: If you are posting this article to a personal or other non-PRH account you must include the hashtag #TeamPRH.!!
Posted: April 24, 2020