Report from Westminster: Another Spelling Bee Win for Our Colleagues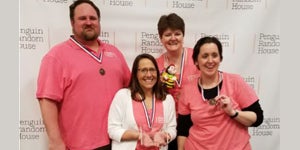 The 18th Annual Spelling Bee benefiting the Literacy Council of Carroll County, Inc. recently took place in Westminster and Penguin Random House was well represented with three teams of spellers.
The "Spine Crackers," featuring Esther-Marie Emslee, Sandy Hartman, and Bill Gill from customer service, and Erin DiNello from DMS, spelled their way to a third place win!
The "Alpha Betties" were represented by Rosie Korzie and Holly Little from Credit and Terry DeFelice and Mary Coe from General Ledger Accounting.
"Err in Spelling," our third team, consisted of Sylvia Shoemaker, Michelle Sadler, Debbie Lockwood, all from Customer service, along with Debbie's daughter Meghan Lockwood.
Although these teams did not place in the top 3, their participation helped with the fundraising efforts to benefit literacy needs in Carroll County.
We are proud of and thank all the teams and spectators who took their time and efforts to help with the needs of others.
Report by Terri Balzanna
Posted: May 18, 2017