Reserve Your Free Ticket for the n+1 Writers Awards Ceremony on Wednesday, May 26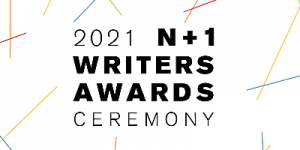 This spring, n+1 established the Anthony Veasna So Fiction Prize, an annual $5,000 award granted to an outstanding fiction writer whose work has appeared in n+1 magazine. On Wednesday, May 26 at 7:30 pm (ET), n+1 will host their virtual Writers Awards ceremony to celebrate Trevor Shikaze, the inaugural prize winner, and Christina Nichol, recipient of the annual n+1 Writers' Fellowship.
Hosted by n+1 contributor, Riverhead author, New Yorker staff writer, and Pulitzer Prize finalist Elif Batuman, the awards ceremony will be held via Zoom, and celebrate Shikaze and Nichol's works with readings and a Q&A with n+1 co-editors Mark Krotov and Dayna Tortorici.
The event is free and open to the public. You can reserve your ticket and RSVP by clicking here.
n+1 was founded in New York City in 2004 by six young writers and editors who wanted to revive the American tradition of politically engaged literary magazines. At the time, the intellectual scene felt fragmented and drained of vitality: political magazines didn't care about literature, literary magazines didn't discuss politics, and big ideas had to be buried in tiny book reviews. The founding editors wanted to make a magazine that could encompass all the subjects they cared about—one that didn't shy away from difficult and ambitious writing, and that saw literature, politics, and culture as belonging to the same project.
Posted: May 24, 2021