Reshma Saujani Brings "Girls Who Code" to Young Readers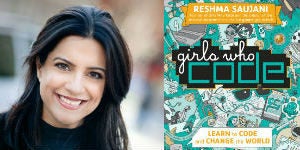 Computing skills are the most sought-after realm in the U.S. job market, yet research shows that the share of women in the computing workforce has declined from 37% in 1995 to 24% today. In 2012, Reshma Saujani recognized this growing gender disparity and founded the national non-profit organization Girls Who Code to inspire, educate, and equip girls with the computing skills to pursue 21st century opportunities.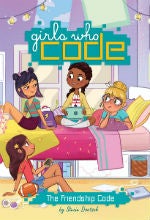 On Tuesday, August 22, Penguin Young Readers will join forces with Reshma and Girls Who Code to launch a new, multi-format, cross-imprint publishing program with the publication of GIRLS WHO CODE: Learn to Code and Change the World (Viking Books for Young Readers, for ages 10 & up) and THE FRIENDSHIP CODE (Penguin Workshop, for ages 8-12). These books teach girls the fundamental principles of coding and allow budding female coders to see themselves reflected in our cultural narrative.
"When I first started Girls Who Code, I realized that there was a need for books that described what it's like to actually be a girl who codes," says Reshma Saujani. "I always say, 'You can't be what you can't see.' And that's true for books, too. We need to read stories about girls who look like us in order to be inspired to try something new."
Reshma kicks off her national, 8-city book tour on August 22 at 5:00 p.m. with a Women in Tech rally at Union Square, followed by a book launch at 7:00 pm at Barnes & Noble, Union Square, with Reshma and Bustle.com editor Cristina Arreola in conversation. Major national media for the book launch includes interviews with Good Morning America, People.com, The New York Times, TIME for Kids, The Chicago Tribune and CNN, as well as review coverage in Family Circle and Scholastic Teacher.
Posted: August 21, 2017