RH Virtual Events Presents "Coffee with Conor Knighton" via Instagram (5/3)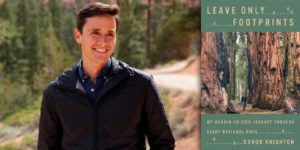 Conor Knighton, author of LEAVE ONLY FOOTPRINTS: My Acadia-to-Zion Trip Through Every National Park (Crown), will be featured on Random House Virtual Events' "Coffee with" program via Instagram on Sunday, May 3 at 11:00am (ET).
LEAVE ONLY FOOTPRINTS is a behind-the-scenery look at Knighton's year traveling to each of America's National Parks, discovering the most beautiful places and most interesting people our country has to offer. Filled with fascinating tidbits about our parks' past and reflections on their fragile future, this book is both a celebration of and a passionate case for the natural wonders that all Americans share.
Knighton is an Emmy-winning correspondent for CBS Sunday Morning, America's #1 Sunday morning news program. Depending on your cable package, you may have also seen him hosting shows on Current TV, AMC, and The Biography Channel or providing commentary for the likes of MTV, E!, and CNN. He has been to all of America's national parks and what feels like 40 percent of its Hampton Inns.
!!A reminder for PRH employees: If you are posting this article to a personal or other non-PRH account you must include the hashtag #TeamPRH.!!
Posted: May 1, 2020