RH Virtual Happy Hour with Jon Bonné on THE NEW WINE RULES via Instagram (4/30)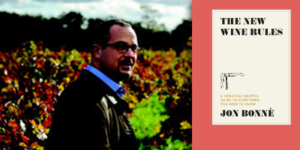 Random House Virtual Events presents a Happy Hour with Jon Bonné, author of THE NEW WINE RULES (Ten Speed Press), via Instagram on Thursday, April 30 at 4:00pm (ET).
There are few greater pleasures in life than enjoying a wonderful glass of wine. So why does finding and choosing one you like seem so stressful? Now, becoming a happier, more confident wine drinker is easy. The first step is to forget all the useless, needlessly complicated stuff the "experts" have been telling you. In THE NEW WINE RULES, wine writer Jon Bonné explains everything you need to know in simple, beautifully illustrated, easy-to-digest tidbits. For example: A wine's price rarely reflects its quality. You can drink rosé any time of year. Don't save a great bottle for anything more than a rainy day.
Bonné is the wine editor of the San Francisco Chronicle and covers wine, spirits and other libations throughout California and around the world. Previously Bonné was lifestyle editor and wine columnist for MSNBC.com and wine columnist for Seattle magazine, and has written for such publications as Food & Wine and Budget Travel. His work in food and wine journalism has earned awards from the Association of Food Journalists and the James Beard Foundation.
!!A reminder for PRH employees: If you are posting this article to a personal or other non-PRH account you must include the hashtag #TeamPRH.!!
Posted: April 29, 2020