RHCB Invites Readers to Celebrate the 25th Anniversary of "THE WATSONS GO TO BIRMINGHAM—1963" with Special Gift Book Edition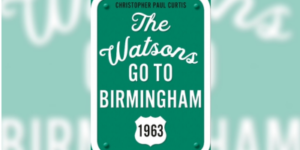 Random House Children's Books celebrates the twenty-fifth anniversary of Christopher Paul Curtis' award-winning THE WATSONS GO TO BIRMINGHAM—1963 (Yearling) with a special gift book edition, on sale November 3, Election Day, when one of the central issues across our country is racial equality. Complete with additional content that includes a new foreword and afterword from the author, manuscript pages, and personal essays from award-winning authors, this new edition of the title that Jacqueline Woodson called "one of the best novels EVER" will appeal to adult fans of the book, educators, librarians, and today's generation of young readers.
When the Watsons—ten-year-old Kenny, Momma, Dad, little sister Joetta, and brother Byron—set out on a trip south to visit Grandma in Birmingham, Alabama, they don't realize that they're heading toward one of the darkest moments in America's history. Their journey reminds us that even in the hardest times, laughter and family can help us get through anything.
THE WATSONS GO TO BIRMINGHAM—1963, hailed by the New York Times as "marvelous" and by National Public Radio as a "modern classic," has guided over two decades' worth of readers inside the tumultuous summer of 1963 through the eyes of one studious, thoughtful little boy whose family is caught up in events beyond their control. For many young readers, Curtis's book was an introduction to the civil rights movement, and many of those same readers are now activists calling for change and leading the Black Lives Matter movement across the globe—activists who will share this story with their own kids one day.
Christopher Paul Curtis won the Newbery Medal and the Coretta Scott King Award for his bestselling second novel, Bud, Not Buddy. His first novel, The Watsons Go to Birmingham—1963, was also singled out for many awards and has been a bestseller in hardcover and paperback. His most recent novels for Random House include The Mighty Miss Malone, Mr. Chickee's Messy Mission, Mr. Chickee's Funny Money, and Bucking the Sarge. He lives with his family in Windsor, Ontario.
Posted: November 3, 2020