RHCB Licensing Group Announces Two New "Uni the Unicorn" Product Lines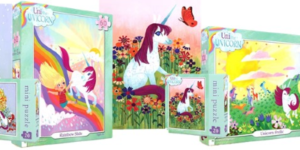 The Random House Children's Books Licensing Group has announced two new product lines for its prominent Uni the Unicorn brand. These include a line of children's pajamas now available at Target.com and a card game coming in June created in partnership with Clarkson Potter (Penguin Random House). Based on the New York Times bestselling Uni the Unicorn publishing program by Amy Krouse Rosenthal and Brigette Barrager, these new products further expand the Uni the Unicorn licensing range which already includes a variety of merchandise such as plush, puzzles and fabric.
The pajamas in the line include a glittery nightgown that features Uni and the little girl from the story and a 3-Piece Set with matching top, shorts, and pants that showcases Uni sliding down rainbows. Both are available now on the Target website. This new program is being supported by Brightly, which will be featuring the sleepwear on their homepage, on the Uni activities and printables page, in an email blast to the site's subscribers, and through a series of social media posts.
Clarkson Potter's game consists of a deck of oversized kid-friendly cards featuring sparkling illustrations of characters from Uni the Unicorn. The cards come with instructions for playing Crazy Eights, Concentration and Snap.
This is latest in a series of collaborations between Random House Children's Books and Clarkson Potter. Says Rachel Bader, Director of Licensing, "One of the ways we have been successful is by partnering with our colleagues at Clarkson Potter who seamlessly have extended our brands into new categories like Emily Winfield Martin's Baby Book The Wonderful Baby You Are, Wonder's Choose Kind Journal and Uni the Unicorn's 3-in-1 card game launching June 3rd. These products have been sold alongside the books or break into new areas of the store where the books don't usually live."
The Random House Children's Books Licensing Group, led by Bader, works to build global franchises out of bestselling publishing properties to further engage consumers, expand brand awareness in non-book outlets and drive incremental revenue via royalties earned from licensed products and book sales. Properties that this group works on include Wonder by R.J. Palacio; Dream World by Emily Winfield Martin; Uni the Unicorn by Amy Krouse Rosenthal; Duck and Goose by Tad Hills, Everything I Need to Know I Learned from a Little Golden Book by Diane Muldrow and Baby Astrology by Roxy Marj. Products developed include toys, apparel, accessories, classroom materials, gift, stationery, home goods, games, puzzles, and room décor.
Posted: May 20, 2020